Use Google Chrome web browser on sites that say they don't support it!

ChromeID is a very simply Mac OS application that will launch the Google Chrome web browser and set its User-Agent string to be that of either Safari, Internet Explorer or Firefox. That's it! … Really! … That's all it does!
Why? Why? Why? Well, Chrome has been around a long time and I basically became frustrated with sites that claim to not support it. I knew this could be done on the command line with launch options, so I just made something that would quickly do that for me (BTW, I am aware there is a chrome extension for this).
Most times websites that claim Google Chrome will not work with their site actually do if given the chance. ChromeID will allow you to visit those sites by masquerading (also known as spoofing) Google Chrome as one of the other browsers. This will give you a chance to actually visit the site and see if it will work.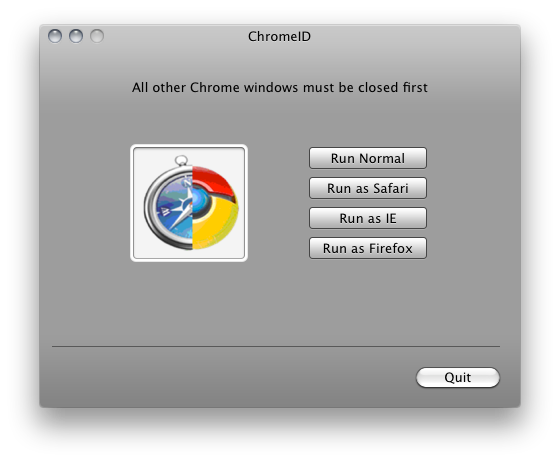 Download ChromeID

(This software is provided AS IS. No warranties, express or implied, are given)