InfoSource version 2.0.1 has been approved and is now available in the App Store.
This is a minor update to the 2.0 release which addresses some bugs and improves performance downloading from iCloud.
New in Version 2.0.1:

√ Improved performance downloading sources from iCloud
√ Updated icon for retina display
√ Fixed an issue affecting new users attempting to download from iCloud or add sources for the first time.
Some notable features of version 2.0 include:
iCloud syncing of sources between devices.  Add a source on your iPhone and have it sync to your iPad (or vice versa). This is an option available in the settings.

Added the ability to share a link via in-app email and Twitter.

New look and user interface. 

New visual indicator that background polling for information is active.

Easier readability with more information available at a glance.

Completely rewritten engine for searching and downloading information from sources.

Integrated source search that makes adding sources and feeds super easy. No need to type in the feed address anymore, now its as simple as search and tap to add a source.

Option to easily add a Google search as a source.

Many behind the scenes code optimizations, improvements and bug fixes.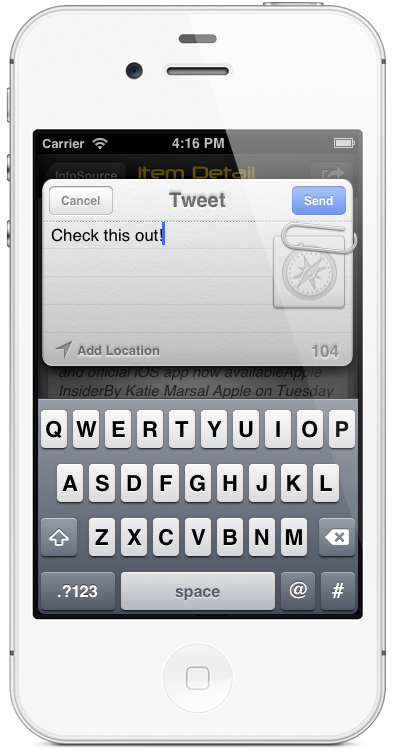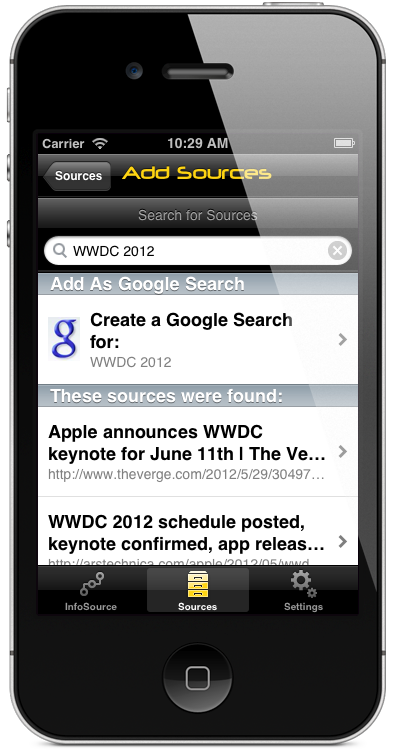 Pricing and Availability:
InfoSource 2.0.1 is free and available exclusively through the App Store.
Version 2.0.1 requires iOS 5.0 or greater.
For additional information please visit the InfoSource product page