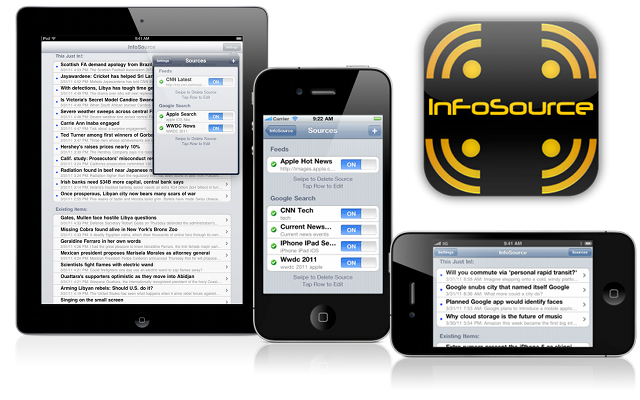 InfoSource is a simple, yet powerful application for keeping an eye on the information that matters to you most. You simply provide the sources of information you would like to monitor, then sit back and watch as the information flows in. You can actively monitor RSS / ATOM feeds or any topic you like through integrated search.
Once you have configured some sources, the item list will automatically update as new information becomes available. Items new to your list will be prominently displayed in a dynamic group at the top, then trickle down to the existing items group. The existing items list also has built-in search for those time when you think you may have missed something.
New Features Added in Version 2.1:
Support for iOS 6 and iPhone 5.
Facebook integration (requires iOS 6).
Added sharing via SMS/iMessage (requires iOS 6).
Added the ability to hide the bottom Tab Bar on main screen.
Search bar automatically hides when not in use.
FIX: Progress bar now accurately tracks refresh interval changes.
Other interface improvements.
many other bug fixes.
New Features Added in Version 2.0: 
iCloud syncing of sources between devices. Add a source on your iPhone and have it sync to your iPad or iPod (or vice versa).

Added the ability to share a story link via in-app email and Twitter. 

New look and user interface. 

New visual indicator that background polling for information is active. 

Easier readability with more information available at a glance. 

iPad now has full width viewing in landscape mode. 

Completely rewritten engine for searching and downloading information from sources. 

Integrated source search that makes adding sources and feeds super easy. No need to type in the feed address anymore, now its as simple as search and tap to add a source. 

Option to easily add a Google Search as a source of information. 

Many behind the scenes code optimizations, improvements and bug fixes. 

You now have the ability to remove the ads through an optional one-time In-App Purchase.


••The full feature set of InfoSource is FREE, Ad-Supported (and always has been). Version 2.0 adds the ability to remove the ads via an optional one-time In-App Purchase.
Existing Features in all versions:
Unique lean back experience for keeping an eye on your information.

Ability to actively monitor any topic through integrated keyword search.

Full landscape viewing supported

Supports multiple feeds.

Supports multiple search terms.

Ability to search through the list of existing items.

Easily choose which of your information sources appear in the list.

Configurable automatic refresh interval.

Option to prevent the screen from dimming.

An integrated detail view for any item in your list.

View the items web page using the built-in web viewer.

Optionally open the item's web page in Mobile Safari.

Universal App for iPhone, iPod Touch and iPad
However you decide to use InfoSource we hope you find it to be a fast and efficient way to get directly to the source of your information.

[slideshow]