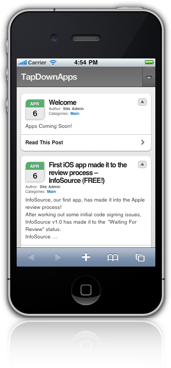 The status of InfoSource hasn't changed much. Still "Waiting For Review", but that's no surprise it's only been three days. The website on the other hand has changed considerably. I moved the site from it's original home at Google Sites over to WordPress. Google Sites is great at what it does but it was a little to limiting and ridged. I have used WordPress in the past and really like the tools and flexibility offered by their service. Plus they have an iOS App, gotta love that. With WordPress I know I will always be able to easily alter the site to accomodate the changing content.
With the new web host comes a new look. I like to keep things simple but functional so I chose a theme that offers just enough customization while focusing on the content.  To accompany the new theme, I also created a custom top banner. The images for that were created using screenshots from my devices with an app that uses a TapDownApps icon. Those screenshots were then placed into Apple's marketing images, cropped, chopped, scaled, layered and shadowed up into what you see at the top of the page.
My goal for the site is for it to be a functional way to present information regarding our iOS development projects along with other related topics. This recent transition is one step in that direction.
OH Yea!, I almost forget the best part. Thanks to the built-in integration of the awesome WPTouch theme, the website is fully optimized for mobile browsers as well. If you visit the site from your iPhone, the content will appropriately display an app-like theme created for the smaller screen.
OK, thats all I have for now. Talk to you soon!